MicroOptical's viewers are the smallest, lightest head-up displays available today. They accept standard VGA, NTSC, PAL, RS170 and RS232 signals and weigh about 1 ounce. They project the information where you need it most ? right in front of you. The careful attention to ergonomics in MicroOptical's designs make the viewers the most comfortable and useful viewing systems available anywhere.
MicroOptical's patented optical system gives the user the impression of a free-floating monitor. This unique optical system is what allows the user to maintain natural vision and awareness of the environment. The viewers are plug and play, ergonomic, and attach easily to prescription or safety eyewear.
---




MicroOptical's eyewear is able to provide a higher resolution image than can be obtained on cell phone handsets and other highly miniature products. For the portable video consumer market, MicroOptical has built the myvu? personal media viewer. More...
---




Working in conjunction with patient-monitoring equipment, the MD-6 Critical Data Viewer displays vital signs, cath lab images or other critical data in a crisp floating image right before clinicians' eyes - allowing them to focus on the patient and operative field. More...
---




Wearing the HMV-B2 (Head Mounted Viewer? Binocular), soldiers can view mission critical information while maintaining their natural vision of the immediate surroundings. The HMV-B2 increases situational awareness without compromising safety or security. More...
---




The SV-6 PC Viewer is the perfect solution for mobile computing offering hands-free, head-up viewing. Producing a superbly crisp image, this lightweight viewer displays an enhanced color depth of 18-Bit (262,144 colors). More...
---




The CV-3 Video Viewer offers unsurpassed image quality and provides a 18-Bit color (262,144 colors), full VGA image. It?s a full video rate product capable of full motion video at 60 frames per second. More...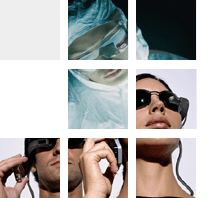 ---
MORE INFORMATION:

30 second Demo of our Viewer
Windows Media Player Version .9 MB
---
For more information or to order, please contact us
---
Compare product specifications of VGA and NTSC viewers
---
View Frequently Asked Questions Sheet
---
For more information or to order, please contact us