The CV-3 Video Viewer mounts on eyeglasses or safety eyewear and provides a monocular color full VGA image. The viewer is a full video rate product capable of full motion video at 60 frames per second.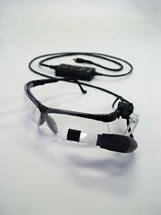 It has a quick release mounting system so that it can be easily attached and detached from the user?s eyewear. The CV-3 is a field-changeable left or right eye viewer. The focal distance can be adjusted from 2 feet to infinity.
The CV-3 provides convenient controls for adjusting the contrast, brightness, tint, and color of the image. The miniature controls and battery are integrated in a lightweight, sleek system that is easily clipped to a belt or carried in a pocket. Operating time on a single charge is approximately 5 hours.
The pixel format of the CV-3 is 640 columns by 480 rows, and the color depth is 18 bit (262,144 colors). The CV-3 is compatible with most NTSC video and PAL sources. Input to the CV-3 is through a conventional RCA connector - the same connector found on most cameras and video equipment or a BNC adaptor can be used.
The CV-3 Video Viewer includes the following accessories: UVEX safety eyewear, mounting kit for use with alternative eyewear, rechargeable Li ion battery, battery charger, optical cloth, user's manual, protective case for the controls (with belt clip) and carrying case. Contact MicroOptical for pricing and nearest authorized reseller.
View CV-3 Video Viewer specification sheet (infrared inspections)
View CV-3 Video Viewer specification sheet (NDT testing)