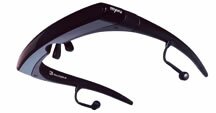 MicroOptical is aiming at a future in which electronic systems are embedded in clothing and other articles that people carry with them or wear. These systems require an advanced video output device, and therefore MicroOptical builds viewers into conventional eyewear.
Cell phones, PDAs, computers and other devices will be able to send images to MicroOptical's eyewear to provide hands free and private viewing. MicroOptical's eyewear is able to provide a higher resolution image than can be obtained on cell phone handsets and other highly miniature products. Recent advances include lightweight wireless solutions with micro-miniature optical and electronic components that are almost - but not quite - invisible.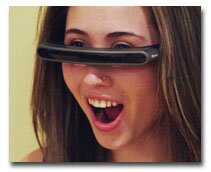 For the portable video consumer market, MicroOptical has built the myvu? personal media viewer. The myvu viewer is compatible with NTSC and PAL media players such as the Apple iPod, Archos Gmini and Creative Labs Zen. This product will become available in 2006. Contact us to learn more about myvu personal media viewers, or download our product specification.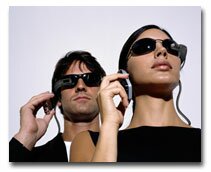 MicroOptical's alliance with ophthalmics leader Essilor International has been formed to provide the highest quality ophthalmic lenses capable of delivering images in conventional eyeglass lenses. Together, MicroOptical and Essilor are developing future products that will provide the comfort and performance that people have come to expect from modern eyewear.
MicroOptical has reduced to practice what was only a Hollywood dream a few years ago. Still, OEM partners are needed to realize the dream of truly mobile products that plug and play with MicroOptical's eyewear viewers. Take a look at the technology: request an on- site OEM demonstration, or consider an OEM evaluation kit, which provides fully functional demonstration eyewear and complete instructions.
MicroOptical is actively seeking OEM partners who share the vision for this mobile revolution.
Contact us to learn more about MicroOptical's OEM program.