The MicroOptical Corporation, a privately held company based in Westwood, Massachusetts, is the leading supplier of eyewear viewers for the portable electronics industry. MicroOptical's research team has developed a range of highly ergonomic eyewear products, including the myvu? personal media viewer. MicroOptical's products are integrated in, or mounted to, sunglasses, eyeglasses and safety eyewear. The company has a strategic alliance with worldwide leader Essilor International to add ophthalmic correction to the myvu line of products and to deliver images through true ophthalmic eyewear products.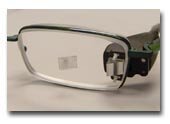 MicroOptical's personal media viewers and eyewear products, which are readable in all lighting conditions, are the smallest, lightest eyewear displays available today. Weighing about one ounce, MicroOptical's patented SolidOptex? optical technology provides the user with the impression of a free-floating monitor. This unique optical system allows the user to maintain natural vision and awareness of the environment in all lighting conditions. MicroOptical's viewers, which represent an ergonomic breakthrough over conventional head-mounted displays, have received widespread industry recognition from Macworld, New York Times, Newsweek, Popular Science and USA Today, among many others.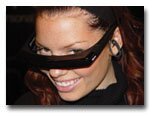 MicroOptical's myvu personal media viewer has the SolidOptex optical technology incorporated inside a unique eyewear frame to form a comfortable, compact design. It's the ultimate solution for viewing broadcasted and downloaded entertainment on cell phones and portable media players. The myvu viewer takes the output signal from media players such as MP4, DVD and cell phone products and projects a floating image that the user can see around ? providing an enjoyable viewing experience for on-the-go consumers. Complete with in-ear earbuds for stereo sound, the viewer represents a breakthrough in portable display technology.

MicroOptical makes wired and wireless viewers for operating rooms. These eyewear-mounted instrumentation viewers are connected to either vital sign monitors or image guided computers to provide surgeons and anesthesiologists with ergonomic real-time data which has been shown to reduce the time required for surgery. MicroOptical's medical products are manufactured using an ISO13485 quality system. MicroOptical's medical partners are GE Healthcare, DePuy Orthopaedics, Stryker Endoscopy and Luxtec.

MicroOptical's eyewear viewers help maximize the full potential of portable electronic devices by giving users a hands-free way to view information. The viewers have a variety of applications in the mobile computing, law enforcement, security, test and measurement, and video production industries. These products allow users to view information from portable industrial devices such as flaw detectors, IR cameras and oscilloscopes, and computers. The military products are sold exclusively through a strategic alliance with Raytheon Company. The military products are used with thermal weapon sights and driver vision enhancements.